The hand in G'ds Hand
Of all my 5th Dimensional art pieces I especially feel drawn to the piece called G'ds Hand as it embraces anyone that is its projection area. I have used this piece among the other 40 or more oil paintings in the 5th Dimensional series in different functions, in workshops, in performances, or in Happenings with dance and music. And each time, I see it takes different forms as it moves people into interesting expressions.
The message it conveys, is that our Creator, he is our Manifestor of all life, and we are his children, inhabiting his places, his galaxies, and we are spinning around his hand  ~ such a full hand of endless potential and love for his children all over the world and within it's universal creations.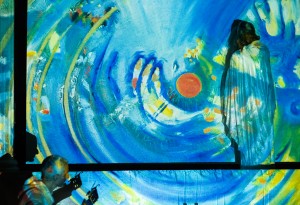 The red ball, is like a sun-launching-pad; the warm glow from within his deliverance; the birthing spot; the center point; the middle of the galaxy; the furnace of love…
Our Creator, is all that was, that can be and that will be… and we are his abundant and varied offsprings, in all kinds of shapes, faiths, ages and forms.
He loves us equally and we can be shining examples of his divine form, as of today, in our expansive and innovative world. It's our tasks to be manifesting goodness and kindness on this earth.
My art pieces are like gateways or shall we say like gates into an other landscape, the 5th Dimensional one. To see more of the art work, you are welcome to visit my gallery.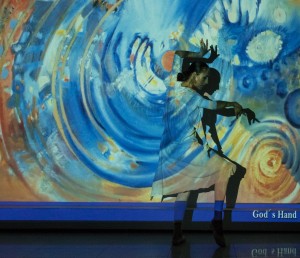 This year 2020, our last 5th Dimensional events were in Jerusalem and Madrid.
Stay tuned for our next 5th Dimensional Art Happening in Europe.
with much love and creative power to us all, Eva Ariela
wwww.evaariela.com