Eva A. Lindberg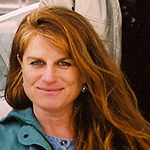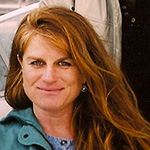 Eva was born in Stockholm, Sweden, and she loved playing and being out in nature, picking flowers, drawing and building things with her friends in the forest. Enjoyed exploring the world with her sister, biking, playing music and dancing. Picking blueberries in the summer and Skiing in the winter with her grandparents in Dalarna, northern Sweden; sailing with her Father in archipelago of Stockholm and talking about life's deeper meaning with her wise Mother.
Eva adored her Mother, who was a great inspiration and loved life despite her survival of the horrors in the Holocaust: She was a physician, a scientist and a psychiatrist.  Eva's Father was a Swedish piano teacher, who lived an eclectic life. Even though her mother was a scientist she also wrote many poems and published a few books. Her uncle was a known scientist Leopold Infeld, who wrote several papers with Albert Einstein, one popular science book 'The Evolution of Physics' (see below).  Eva's grandfather wrote the book 'Plaszow' and her grandmother about feminism in 1920 ties, and more.
Stories, poetry and music were an important part of the family life. Painting and drama became Eva's interests. In 1975 the family moved to Israel, where Eva attended the Telma Yalin high school for the Arts in Tel Aviv, where she dedicated her time drawing and sculpting. Upon graduation she won a National Arts Contest for a sculptured piece entitled "The White Curve."
In 1986, she graduated from the Bezalel Academy of Art & Design in Jerusalem with a Bachelor of Design degree in Architecture. Eva also studied overseas at the Boston Architectural Center in Massachusetts and at the University of Architecture in Venice, Italy. After graduation, she worked for Turner & Associates architectural offices in Jerusalem.
In 1987, Eva moved to Berkeley, CA. where she was offered a Graphic Design position. As she transitioned into this new profession by developing both illustration and desktop skills, she found that the educational background in design planning and rendering, helped her convey meaning through images. As an architectural student in Israel, she was keen on maintaining the drawing and painting skills, and took extra courses in landscape drawing with Gershon Von Schwartze and  still life drawing with Avinoam Kosowsky. The same inspiration held true in the Bay Area, and she began to study figure drawing and illustration at the Academy of Art College in San Francisco, and took mixed media courses at the University of California in Berkeley.
The years Eva had dedicated to rendering, drawing, painting and sculpting eventually led her to see and develop a new style called the "5th Dimensional Artwork." In 1991, while studying at the Energy Art School in Berkeley, directed by Ross Drago, she synthesized all the different modalities in which she worked into this one concept and expression.
Most of the 5th Dimensional Artworks are oil on canvas. They convey images from an abstract but suggestively figurative source of inspiration and incorporate many multi dimensional aspects.
Eva exhibits these works and others, internationally and locally, e.g. European Who's Who art shows. As an additional creative outlet, Eva performs & hosts multi-media 5th Dimensional dances accompanied by projected images as a means of bringing the "3rd dimensional content" of the canvas out into the open. She finds this enhances the "5th Dimensional" experience beyond the usual visual intake and allows the observer an intangible sensation of entering into "another world," free from our known perceptions and our day to day life.
Here you can view images from the 5th Dimensional Happening:  http://www.evaariela.com/press-media/
To visit Eva's Mothers life work: www.profmagnesium.org
To visit Eva's Sisters life work: www.lindbergpeacefoundation.org
Here is a site about the book 'the Evolution of Physics': www.amazon.com