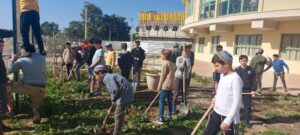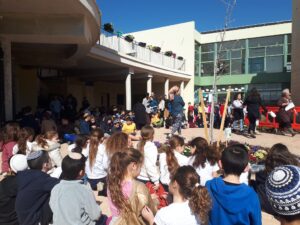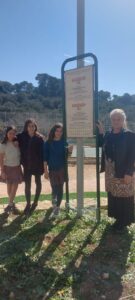 We enjoyed a wonderful Tu B'shvat planting ceremony at the Glili School near the Sea of Galilee, February 2023. In the featured image I stand with Sharon Bahat, the deputy Director at the School, near the new sign, and she was very instrumental and inspiring in co-organizing the event.

The Lindberg Peace Foundation and the school held this ceremony with 250 children, to inaugurate the "Shvil HaShvatim which means "The Path of the Tribes" by planting 13 trees; symbolizing ALL of Jakob's children. Meaning all the 12 tribes and Dina. There was dancing and singing, planting and each class took upon themselves to be responsible for the same tribe that we matched the tribal to.

Dina ~ Tut Afgani/Strawberry
Yehuda ~ Ela
Asher ~ Olive Tree
Shimon ~ Shezek
Reuven ~ Etrog
Zvulun ~ Guyava
Benjamin ~ Almond
Josef ~ Pomegranate
Gad ~ Alon
Dan ~ Moringa
Naftali ~ Dolev
Levi ~Palm/Tamar
Isaschar ~ Carob/Charov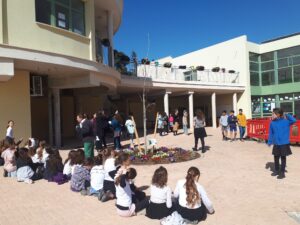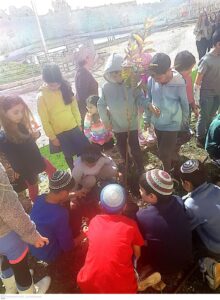 Together with G'd, our Creator, let's MAKE, RE-MAKE, RESTORE, RENEW and REVEAL our physical and our divine own uniqueness, creative ways, through the TREES and the Plant Kingdom.
My goal is to plant these 13 symbolic Tribal trees each year in different schools in Israel until 2037. It started first time during the auspicious Sun Blessing in 2009 in Safed. To read more about the Sun's Prayer and Blessing, please visit our SunBlessing website.

Many blessings, Eva Ariela