1.1.2021
Here is my NEW YEAR MESSAGE sharing with You and Our world.  I also like to invite us all to rejoice in making a shift for the better in our challenging times. May we all gather our strength and health to really make 2021 a year of true change so that we can live in Harmony on this Beautiful Blue Planet.
Bravissimo, we have survived 2020
A New Start 2021
We shall Gallop into the Sun
Rejoice with One another 
Share beautiful creative moments, 
filled with impulses, insights,
ever lasting impressions.
We shall build a New Landscape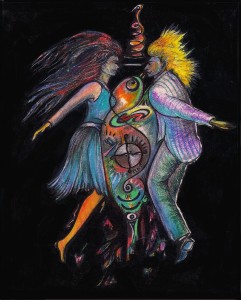 a landscape of vibrant colors;
Beauty, Community, Music, Dance & Ritual 
and mainly
Love one another, Love Mother Earth…
as we will
Let the children of our Future lead us back to Love,
and we all shall become the New Millenia
Let's  us also not forget all those who did not make it to the year 2021, let's remember all dear friends and family members that passed away, bless their souls.
Even if we may feel relieved as we are exiting the year 2020, the year 2021 may have its own set of surprises, as there will be three conjunction between Saturn & Uranus. They will square one another on Feb 17 and then later in June and December 2021. So let's be gentle with one another, as we may have to go through even more shifts, but this time I sense the Uranian forces will initiate a more long lasting change for the better, G'd Willing.
21.1.2021
Stay TUNED for our Next Year's 2021 ~
Co Visioning in where we will add the aspects of Co-Creating a Better Future, as well. G'd willing!!
21 JANUARY 2021
We did 20th of the month in 2020 ~
To Co~Visioning a perfect 20/20/20 global vision
(with the 3rd Eye seeing)
Next year we will do the 21th of the month in 2021
Co Creating a true changes together.
and G'd willing, for 2022, we will meet in real groups together,
and we will meet 22th of the month in 2022
Facebook group
https://www.facebook.com/groups/584935275635022