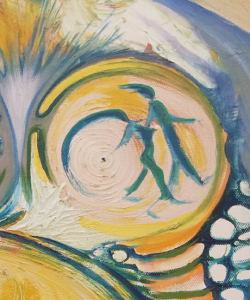 How can we create art during a pandemic? Not easy to feel inspired on one level, yet on the other level, we have so much more time to create. To me this time, grows in waves… at times I paint a lot and at times I can't inspired. There is such a strong collective uncertainty, that can make us slow to deliver. It's ok too, this way we are resting and reflecting upon new ways how to build a more Humane World. In the meanwhile I keep enjoying my portraits and emotional faces series (see featured image).
The times are so intense and it feel like we are on hold, for something else to be created in our society. We have been in a trance of a rat race, in where people were working too hard in cooperations, coming home late, exhausted, crowded subways, running to 'no where', all in order to pay for high rents and sit in traffic for hours. The poor got poorer and the rich got richer, and those who had more material gain, grew smaller in their hearts… kindness disappered.
Now we are on hold, so Mother Earth can begin to share her message, the animals to take more space back in our urban settings, and for us to begin to appreciate one another and our neighbors. This is a time for major shifts, and I believe it will take up to 18 months, until we shift to a more sustainable living society, where we use less pollution and revere all workers, and many other things that went wrong over the last decades..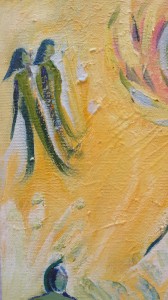 So for me as an Artist… I need to re-think, is this new world filled with Art and Creations as well? Yes, of course, and will we be able to host our events, gallery exhibitions etc. All to be online now? It will happen, just maybe in a whole new way.
Last week, during my Shabbat prayers, I felt that these times are really cleansing out the negative energies on our planet, and that the benevolent, kind and loving forces are slowly regaining a steady holding on our beautiful planet. Therefor we may see more disruptions before we find a more harmonious equilibrium on all aspects of life and in our society. We are part of history, and have the responsibility to make this a better world.
How do we protect Humanity from Humanity? How do we encourage Kindness to be our ruling Kingdom? In hope we, the creative people, healers and visionaries. may be of inspiration in our upcoming new era.
Many blessings and Stay Healthy,
With Tulip Love… Eva Ariela