Art in times of trouble, provides for great opportunities to create and being even more artistic. And since we all have more time now on our hands, its also a great time to resume dating again… attaching here some of my couple art pieces (oil painting & mixed media). Finding I have more time to engage and date on line and via internet, just now what remains is waiting for flights and travels to open up. In hope it won't take too long… Makes me think of the old times, for example during WWI, when women waited for years for their husbands to come back home from far away battle fields. What love and dedications… can we learn from their extraordinary patience in these pandemic times?
Since the 2020 pandemic started, I thought it would last maximum 2 to 3 months, but it seams to only keep going. I am starting to get restless, as I am used to travel and feel socially starved for being able to see more of my friends and family, whom are now overseas. So therefor my Art has become my daily companion, on top of zoom calls, whatsup talks, skype and seminars.
As much as I love ART, people are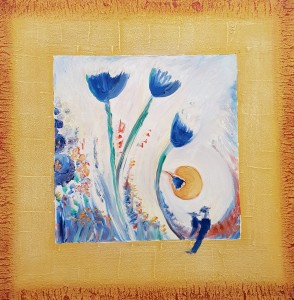 more important and appreciate even more now the luxury we had with all the past social interactions.
Still, being very thankful I have now TIME to sit and do more art pieces, as well as to complete some. Especially my Shabbat Candles series, feels good to work on them when situated in a peaceful country side. In hope people will be inspired by my shabbat visuals, and may the light shining each Friday night, in most countries of the world, bring in the Shechinah.
Our future is currently extremely unpredictable, and I image that is how my family felt during the WWII, not know if anything will ever seam to shine again or have a positive end? Five years of a world full of fear and trouble. This pandemic is of course set in another more modern context and in hope it won't take same amount of years. May we instead learn more about how we can better our relations to each other and to Mother Earth.
with my love, Eva Ariela