Art in times of Uncertainty…
As we are in the midst of intense winds of change and havoc in our world, it can be a good idea to experience other worldly delights, to make our existence a bit more bearable…
When standing at the easel, my hands want to express volumes of other worldly delights, in gliding forms, in shapes of color, in movement of endless spiraling forms. And then what? Is my alternative 5th Dimensional Art perceived, understood?
It takes form for the ones that experiences it… it envelops the observer, the mover and the dancer. That is why I choose to take my 5th Dimensional art style oil paintings into a multi media expression. I project my art pieces, into white big backgrounds, accompanied with music. People are invited to come in white attire and move or dance, inside the projected area.
The 5th Dimensional style I originated at the Energy Art School in Berkeley California, by a fabulous Italian artist called Ross Drago.
To view the 5th Dimensional Happening, please watch these videos.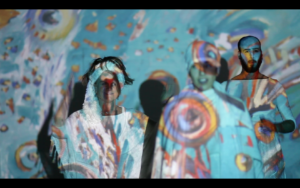 While we live in a third dimensional reality, can we open up to a new perspective and take in what is not seen to the immediate eye? Can the world take in the 5th Dimension into itself?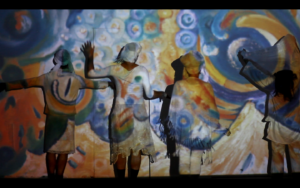 Does the world know how beautiful it can be to bask inside a 5th dimensional landscape? My 5th Dimensional is here to make that invitation to view another world and enjoy it from here.
Escape into another world, with white clothes & white shawls
Dance & Move until you no more feel this 3rd reality.
With much love, Eva Ariela