On 20th January we had a special event in Jerusalem. We combined Sacred Musical singing with my 5th Dimensional Art projections, people came in white clothes and celebrated. The 5th Dimension is a great space to feel another kind of reality;  the idea was for us to overcome our day to day fear based reality and move into new consciousness, so we can enjoy life again… the last decades have been very challenging on many of us globally and environmentally.
It was a good to combine musicians wearing white as well, melting the forms of auditory and art in one. Among them were Jonathan Font Moxo & Eliyahu Rosenblum. The 5th Dimensional landscape became a space in where these two worlds could meet.
Another thing we focused on was how can we Co-Create a NEW FUTURE this 2020? Today's world has become so intense and so unpredictable, that many feel powerless and fear ridden. During the last half year of 2019, I kept feeling we must do a series of events out through 2020, in order to raise our level of trust and enthusiasm again, despite so much chaos. It allows for us to overcome and hopefully influence our future to be a better place to live in. We launched the first one 1.1.2020 in Jerusalem where 4 major religions meet in the old city!
Another reason we choose the 20th of each month as it works well with 2020, but mainly to connect to the fact that 20/20 is an expression of PERFECT VISION, so why not create a PERFECT Co VISIONING for our future and generations of children.
20.2.2020 Vision
On 20th of every month we will continue the thread of the 2020 Co-visioning, for the entire year, locally and globally.
The thought of having it every 20th of the month, comes from numerology, close to the New Moons/Rosh Chodesh and the idea of Co-Creating a new vision so we can manifest together… 20/20/20.
Usually 20/20 vision is an ideal vision, and if we add another 20, its like we will have access to a third eye vision. This is the year of expanding our vision to see beyond what will happen and manifest a better reality, despite our difficult global situation.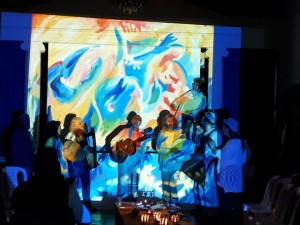 We did a launching,  January 1.2020 (at 11.11 am to 1.11pm), in the Old City Jerusalem, at the meeting point of four major religions. Many  groups overseas prayed with us, which felt great.
Here are the dates when we will meet and Co~Vision a better 2020 and Beyond.
For more info, you can visit our FB group page
January 20, 2020
February 20, 2020
March 20, 2020
April 20, 2020
May 20, 2020
June 20, 2020
July 20, 2020
August 20, 2020
September 20, 2020
October 20,2020
November 20,2020
December 20, 2020
Everywhere globally we will connect on the 20th, during the time period of 11.11 am to 11.11 pm, so we can all be in sync from most part of our beloved blue planet. https://www.facebook.com/groups/584935275635022/
Much love and many blessings, Eva Ariela