It's summer again, and my artistic being wants to be outside, swimming, hiking, taking nice long walks with friends in nature…. Observing how the sunsets slowly dip into the Swedish landscape… and we are wondering how one can ever depict or draw nature in its true glory. The English painter Turner was an amazing capturer of cloud formations, and I wish I had it in me to be so accurate. Yet, my passion has always been with the more unseen worlds, such as the 'cosmic landscape'.
The featured image of the blog is a classic 5th Dimensional piece, as its swirls and twists; turning like a happy dog chasing its own tail, like a butterfly circling around flowers and like galactic star systems spiraling into one another, effortlessly. In a way it makes me comforted, as all is interconnected…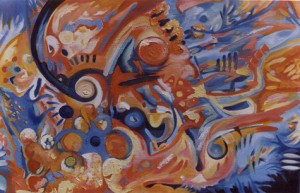 Another lovely thing about nature in the summers is that you can go out and study the organic forms of the fibonacci spirals. So prevalent in many flowers and green plants. Some of that pattern can be seen in for example artichokes… or in Sun Flowers with its neatly packed-in seeds, or shells. My oil paintings consists of these spiral forms, and when I work on any given art piece, I often feel my arms tend to move into circular motions, like they want to capture the actual spiral forms and make it land on the canvas.
Spiral forms in nature exists of course also in Cosmic landscapes; Nature and the Cosmic landscape show that all that exists below exists also above.
Still, at times I ask myself, whom am I, to paint these cosmic landscapes? I am not an astronomer, I am not an astrologer, (even though I love to study it) and I am not a scientist. Yet, I am an artist that like to dive deep into the 5th dimension, both in meditations and within my third eye consciousness. I love that mystical world, and often miss it in our mundane day to day existence and 3D reality. That is why I love to share the 5th Dimensional Happenings, with people – it's a permanent invite into another vibrational field of consciousness and different art forms.
Our next 5th Dimensional Happenings will be in Gothenburg, 12 Sept. at Strandska. From 18.30 to 21.00.
https://www.facebook.com/events/1402778039878625/
Welcome!
It's simply an invitation to enter into another dimension… or a cheap ticket into space exploration.
With much cosmic love, Eva Ariela