I love it when art comes to me in flowing intervals, or when some of the art pieces come in waves or in styles of new expressions. Beyond the steady art making, these added flows of creativity come in unexpectedly, and are very welcomed into my life. In hope I have enough time to embrace them… to sit and work with them from beginning to end.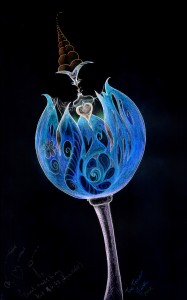 As many artist may feel, there are so many pieces we start and then we wait to complete them at another point in time & space, as so much else is being downloaded and flowing within and without ourselves. Can you relate, fellow artists? I wish I had more time per day, so my art could also be uploaded on a daily basis…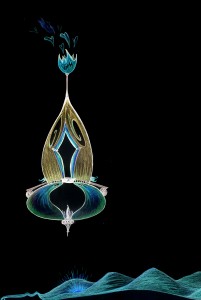 Waiting for calmer times, and in hope to be able to dive deeper into these waves of expressions as well. In the meanwhile, I am posting here a group of digital representations of my Tulip originals.  The theme are mostly Tulips and their petally display, yet some are a bit 5th dimensional in nature, I am kind of expressing these floating swaying plants, flying by in the cosmic landscape…
I wish I could be inside one of these fanciful 'flying balloons' and float over the world to see its beauty from above, like an eagle that can see so many details from very far away. Like the flowing Art, I can spread my wings with the winds of change.
To view more of my ART, you are welcome to visit my gallery page.
Many blessings and Peace,
Eva Ariela