It's been 10 years since we celebrated the 'Birkat HaChama" — the Blessing of the Sun that occurs every 28 years — then we had a nice week long Festival in Safed. As of this Passover, there will be 18 years remaining until the next Birkat HaChama/Sun Blessing ceremony…in 2037. During that past Festival I had the vision of wanting to plant 12 Trees for the symbol of the 12 tribes of Israel, in where the future Children would be able to attend the next Sun Blessings in 2037. The goal was that they would enjoy the fruits of what we generated as a community in Safed in 2009. However, the trees planted then, did not make it, therefor we did a replanting during the anniversary of 10 years.
As a consequence, the Safed Municipality & Lindberg Peace Foundatio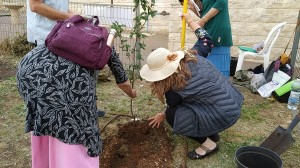 n hosted a special Tree Planting Ceremony this week at the elementary school in Ramat Razim in Safed, Northern Galilee. It was fun to plan the garden area, to make sure there was enough space between the trees, to work with the topography, to make the signs for each name of the tribes and then name the fruit trees. Makes me feel like I can actualize a vision and implement it in such a way that the Tree Planting becomes like a creation as well.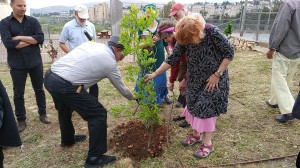 The Safed Mayor Shuki Ohana gave a talk about how Naftali was the tribe that used to be in the same region as Safed, and later he joined us in blessing the trees. Each organization shared a few words of what they do in Safed. Meir Glazer sang a few songs from Rabbi Shlomo Carlebach. The Chabad Rabbi shared the mystical meaning of planting these tribal trees as well. Other organizations shared their intention as well, later on, we had an 'Otiyot Hayyot' Ceremony with Yehudit Goldfarb.
It was great to see how the children loved the fact that now their school has a new garden filled with potential blossoms and fruits to eat. They were eager to help hang the signs and to feel they are part of the growth of the trees. The good part is that they will have to develop patience, to wait 2 to 4 years for the fruits to bear. Some will see their brothers and sisters eat the fruits and berries, as they move on to other schools
We planned to plant 12 trees but it became 13 trees. We had one extra and we were all happy to add the 13th Tree of Jacobs tribes. Jacob's daughter Dina now got a place as well. I say, thanks G'd, finally a Tree for the female offspring of our forefathers was planted! Have to mention that thanks to the deputy Mayor, Shlomo Chadad, we added the extra tree.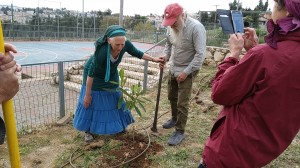 For more information about the Sun Blessing Prayers & the Birkat HaChama Festival, that was held in Safed 2009, please visit these websites:
English: sunblessing.org/eng/index.html
Hebrew: www.sunblessing.org/
With Tulip love blessings, Eva Ariela