Since I was a child I have loved to draw faces, with all kinds of facial expressions, and as a teenager I learned how to do portraits. Later on in life, Tulip Faces is something I began to have fun with, and have been doing for some time now. Somewhere in my subconscious imagination live playful figures and since I wrote the Tulip Love book, I keep depicting and combing the plant world with us humans. Kings with Tulip crowns, Queens with Tulip hearts, princesses with tulip blossoms in their hands.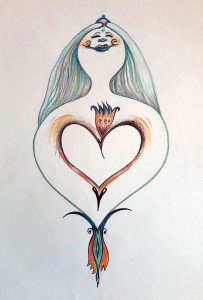 Either a Tulip lands on the bosom of a lady or in the hand of prince, even on animal drawings. I have working on a Tarot card series with this concept, yet been too busy to complete the series and put it out to print. In hope it will happen before too late. In the cards and images I am sharing the ideas and insights I have gathered over the years, in where we humans can learn from the plant kingdom and the way Tulips grow and sway, shall we say.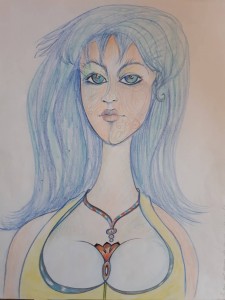 I love drawing faces, I love drawings Tulips, and when combining the two, it becomes a bit of illusionary illustration, as out of the drawing pads, pops up Tulips with human faces or qualities, or Faces with Tulips in the their hair or in their mouths. I am indeed a Tulip O'holic! I guess it's a better then any other vices.
For more information about the Tulip Love healing system, please visit Tulip Love book review. For my art work, you are welcome to go into the gallery.
Have a blessed week, Eva Ariela