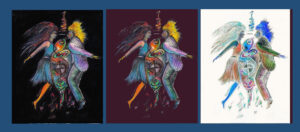 February is the month of LOVE ~ Valentines Day, 14 Feb. One of my favorite subjects to draw and paint are the Beloveds. Forming the dyads, he lovers, the two love birds always gives me an extra push for artistic patches of love and tender care.
In general it's so important and rewarding, to enhance LOVING KINDNESS & BEAUTY in our world, and during this month, we have one more reason to spread cupid's loving arrows.  
Art as a means of romantic allure has always played a key role in many traditions. Artwork can also be an immediate way to flirt with our minds, not only can a flower and a smell or piece of music melt the hearts of loved ones, but also visual delights. An image can have a strong visual impact on our mind, transmitted through the eyes. In fact, the eyes are the window to our soul. We have two eyes and they were created as a pair, this way we can take in the world 'together'. It's not only one window, it's two windows, that elicits the visual information for us to digest internally.
Like to two pillars of entrance into our conscious & unconscious world… our eyes send us immediately into a state of mind; it can effects us tremendously, for good or bad. That is why tears are powerful, as they can shed our visual impact. If we witness a harsh scene, like a difficult car accident, or soldiers at war, then tears help to release the optical trauma in our bodies and our souls (teachings of Rabbi Nachman, shares how tears purify our being). So too does beauty and art, it can elevate our souls to joy and comfort if it elicits good flow of love and light.
That is the intention I have with my 5th Dimensional Artwork, do bring beauty through a higher vibration, and filled with color, movement and energy.  Also if you like to create a private and personalized art piece for you and your beloved, visit my Share you Life Story gallery page.
Soon Happy Valentines, with Tulip Love, Eva Ariela