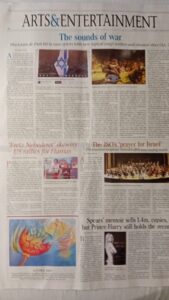 We had our second Peace Protection Prayer circle at the Habama Center in Gani Tikwa near Tel Aviv Thursday, 2 November 2023, 5-8 pm.
The event complimented the unique art exhibition entitled "Tulips and Flame Beings."
Tulip in ancient Persian mythology means "Perfect Love and Protection." What could be more desperately needed in a time of war?
We need all the positive energies to overcome the very harsh reality of this new horrible and barbaric style of war, since 7 October, 2023.
More so, the 'Flame Beings' represent a new style that I developed since the pandemic, and I invite us to learn more about them. www.evaariela.com
As we are in the midst of war, there are a lot of destructive fires, yet the small flames in the art pieces are actually positive aspects of the fire element.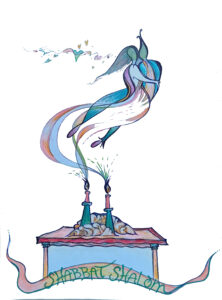 Too much fire is dangerous, and yet small flames, like those of the Shabbat candles, warm our hearts and are capable of bringing joy and hope. Just like the candles of Hanukkah are capable of manifesting miracles, we pray that these Flame Beings will bring hope and protection to Am Israel in these dire and challenging times.
One keen observer has suggested that one should imagine these Flame Beings jumping out of the canvases at night and bringing hope and protection to the Tel Aviv area …
In hope this horrible painful war, will be the last war in the Middle East.
Prayers and good actions, and kindness will be our way to counter act the darkness.
The write up is from the Jerusalem Post Arts & Entertainment section, 7 Nov 2023.
Stay Safe and much love, Eva Ariela