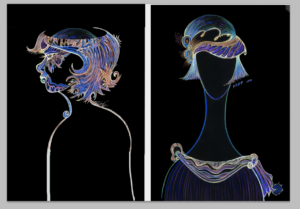 Painting and drawing makes my soul calm, it brings me to the very tip of the pencils expression, to the paintbrushes last stoke, at the end of a long day.
New landscapes cascading down through my hands, trying to share some visual truth, seen from within my being… to share what is so, on a deeper plane of life.
Not only a beautifully displayed vase of Tulips, but also faces that have seen too much, faces that are forlorn, faces that are still looking to find solace after a hectic life of nothingness.
Faces that are longing for true love,
Faces that are too pained to mention anything,
Faces that have seen too much trouble; now silently closed off.
Faces shriveled up in between long hair locks.
Faces, showing deep sadness…. not knowing where to turn…
Those are my expressions on sad days
On days of sunny beauty, the faces shine with deep glory,
On days of Unity, the Beloveds dance in the clouds.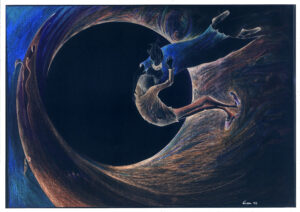 On days of elation, higher beings of knowledge touch my hands of creation.
Yet again
On days of sorrow, the faces shine with tears rolling down like tiny waterfalls.
The life of an Artist is always mixed with emotional content, one day so and one day so….
Yet at the end of the day, a new pile of drawings and paintings have been added, and a content artist can now dream new dreams, for the next day.
To see more of my Artwork, please visit my gallery
Much love, and Bless us all, Eva Ariela