This week we experienced a special super moon Lunar eclipse that swept over our skies. Its amazing to watch the earth's shadow fall on the moon's landscape, making our universe becoming so much more intimate and closer.
On one hand, it's the 'closest we can reach the moon', unless we are an astronaut. Another thing that comes up for me is that it also elicits a deeper connection to our own shadow. The moon is reflecting back our own shadow here upon Mother Earth, so we can see it on the lunar planet. Spending lovely time with my friends, in the early hours of the morning made us talk about the past and about life. Some friends were sharing how they want to enbetter their relationships with their children and loved ones. These eclipses do something to our consciousness…life is amazing!
Also the fact that this was the 4th red moon in a series of 4 lunar eclipses, that fell exactly on the dates of Passover & Sukkoth (the Tabernacle Feast) in 2014 and this year as well, on Passover & Sukkoth, was especially auspicious. This particular super moon yesterday, looked like a perfectly polished pearl in the skies, like one of the Renaissance's paintings. At times I wish I was a realist painter! But I guess I am a self made, 5th Dimensionell Painter!
Even if not always comfortable, its a good opportunity to look at our own shadow or to look at our past experiences, so we can move ahead a new and live more joyously and in freedom. So in the line of that thought, we will soon have a special 40 years memorial since my beloved sister Miriam Felicia Lindberg, died.  To me, it personally reminds me of the time we walked in the dessert, for 40 years, until we shifted into entering the Holy Land. So I plan for this particular anniversary, we usually have with the Lindberg Peace Foundation, to be a very special one. We will add more interesting presentations and entertainment, to honor and celebrate her young life.
To mark en end of period, and begin a new one…I hope I personally can shift into a more creative phase in my life and paint more, and be less worried about our world by trying to always rectify it and help purify it. I will always keep doing my Tulip Love healing and meditations for peace, yet I want to mark this new period of my life, with added involvement with my art.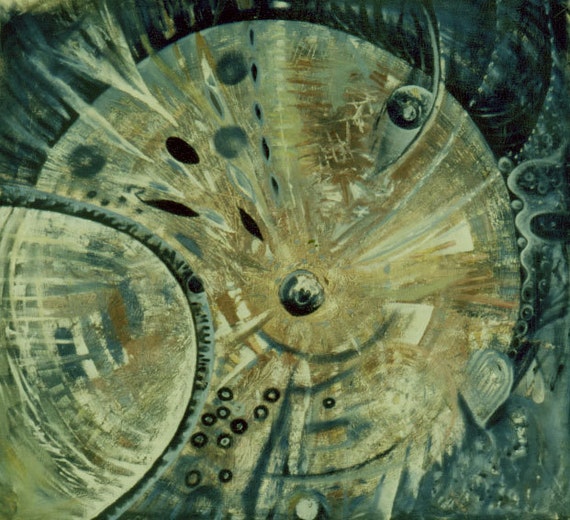 When my sister died abruptly, in Sweden, I resorted to drawing a lot and making numerous sketches & portraits of people. As a way to deal with the sudden loss and horrific pain of loosing my beloved sister, I took a deep dive into the canvas and began an Odyssey of conscious and unconscious  expression of my deeper soul and personal grief. Many of the art pieces became facial expressions of people's emotions, often depicting asymmetric faces with asking eyes. I was looking for answers 'why was my sisters taken away from me in my young life?' I was trying to find the truth engulfed in the images that poured out of my hands, I was eager to learn why bad things happen, and how come I was left alone without my sibling? I really wish I could know G'd ways; hopefully I will understand more when I get back to heaven.
In the past, my dear Mother, Prof. G. Stendig- Lindberg, started the Lindberg Peace Foundation foundation, inviting all the International poetry community to partake in poetry contests…with Honorary and Winners awards, from 500 to 1000 dollars Poetry Winners prices and more. After my Mother passed away, I became the Chairman of the foundation, but since I am not a professional poet, but more of an artist, we decided to add Art & Music to the Poetry reading events.
We also started to add my Mother's poems from the Holocaust and her own life reflections along with Miriam's poems. The 15 October event, will be in the same fashion, with an emphasis of Miriam's poems and a presentation of her 18 year young life. Other Poets readings, Musicians and 5th Dimensional Art projection with a Flamenco Dancer will also be part of the program, as well as Magnesium filled treats and refreshments.
In hope you can join us…
Many blessings,
Eva Ariela