During these very challenging times it's quite hard to drum up creative energies and stay in deep faith, but now we have to be even more disciplined to do uplifting and fun things.
When I can take the time for my own expressive art, it flows very well and I feel inspired. Some of the commissioned art pieces are of course less spontaneous, but I am OPEN for business rain or shine ~ if we are in lock down or not. The mail services may be less efficient these days, but any wonderful orders from you, will arrive, with its final destination of beauty delivered with good intentions from my end, to YOU.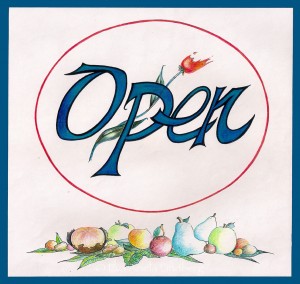 I got an order to do a new art piece for a farmer, who wants a big sign with his name and for his business services, that will be fun. I love doing specialized work for clients, so that it can portray their work & show who they are. A visually beautiful representation becomes conveyed in a visual format and if the art piece shows well the essence of their work, the message comes out strongly to their potential clients.
You can read in my last blog how I also love doing Life Stories for couples or individuals, please read here.
As some of you may already know, I am also doing hand painted signs… which you can view on my Gallery Page and here you can see the sign made for a Health food store in Berkeley ~ OPEN.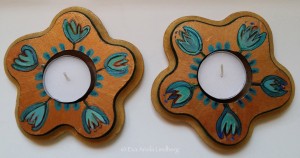 I also create Shabbat Candle Holders & Mezzuzhut,
if interested you can contact me here:
Blessings and Health to you all, Eva Ariela