Greetings dear ones,
In hope you are feeling ok physically and emotionally, even if times seam to be getting harder and harder. Therefore, this time the blog will reflect more about Healing and Our Well Being, rather then the usual creative art endevours. Like to remind us all that resilience is the key, and the message is to stay in FAITH.

Considering our fragile times:
Let's focus more on how to befriend our selves and each other,
Gather all the strength we can muster up and move on,
even if we are going inwards, let's reach up high to the sky and beyond…
lift our heads upwards and see that the stars are still here and the birds are still chirping around us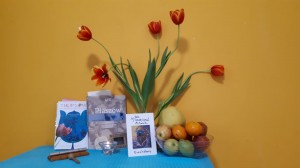 In addition to doing my Art I am also starting a new Tulip Healing series, connected to the New Moon energies, Hebrew months deeper meaning with Tulip self growth exercises. Be great if you like to join as well, for more INFO and registration check my Tulip website
We have been meeting for almost a decade at Tulip in Talbiye for many glorious gatherings and Tulip Love workshops. Given we are now in the pandemic period, these events will be via zoom. Here you can get a feel for what we will be working towards… and we aim to be become really beautiful blossoms by the end of the year 2021.
For those of you who visited the Tulip Temple in Woodacre, California, may recall the good old Tulip Temple days… especially now a days, when we can't be physically close or share healing, those times seam so so precious. May we find the way back to that tender and beautiful community space of togetherness.
With deep faith, and Tulip Love, Eva Ariela